| | | |
| --- | --- | --- |
| | Realtime Software Corporation | |
Welcome to the April 2006 Realtime Software Corporation Newsletter To view the complete online version of our newsletter, click here. We hope you enjoy this issue.
Newsletter back issues are available on the News menu of our Web site.


To learn more about Realtime Software Corporation Support Services, or any of the products and services mentioned in this newsletter, please visit our Web site, call us at 847-803-1000, or send an e-mail to support@realtimesw.com.
AML Authorized Value Added
Reseller Partnership Announced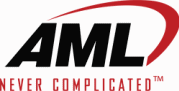 Realtime Software is proud to announce that we are now a purchasing avenue for your Barcode Scanning, Wireless Handheld and RF Data Collection Solution needs. AML's complete line of Barcode Scanning systems, handheld and mounted wireless data terminal devices, and several other product offerings are now available. Numerous possibilities exist for using this type of equipment integrated with the Realtime Software Package, and Realtime is excited about working with you and AML to provide a complete software package solution.
ABOUT AML:
AML is a trusted developer and manufacturer of reliable, high performance bar code and data collection products. Since 1983, AML and its business partners have helped companies worldwide to optimized efficiencies, enhance productivity, and improve supply chain performance – in manufacturing, logistics, distribution, retail and healthcare applications.
AML products include handheld data capture terminals (mobile, wireless, and batch), programmable stationary terminals (fixed station, wired and wireless), vehicle mount terminals, wireless application design software, inventory control software, and an assortment of bar code scanning systems. AML data capture products deliver proven technology that is easy to implement, cost-effective, and backed by the direct involvement from real people, before and after the sale.
---
Attention All Activefax Software Users:
Realtime Software Corporation would like to remind all of our customers that utilize the 'Activefax' Software Package' along with the Realtime Activefax Interface, to be sure and Backup your custom Overlay Forms(*.cov) files on a regular basis.
These are the files that are used to produce your custom forms overlays if they are being utilized - including (but not limited to) the following:
Invoices

Accounts Receivable Statements

Purchase Orders

Picking Tickets

Open Order Acknowledgements

Faxing Cover Sheets
Copies of these Overlay Files should be made to cd / diskette / backup tape - etc. and kept in a secure location to assist in recovery of your custom forms in the case of an Activefax Server failure should it occur.
In order to backup these items - please copy all files with a 'cov' extension in the following directory to your backup media:
C:\Program Files\ActiveFax\Server
If you can not view your filename extensions, navigate to the above directory, then click on Tools, and choose Folder Options:
Choose the Tab labeled 'View', and uncheck the box labeled 'Hide Extensions for known file types':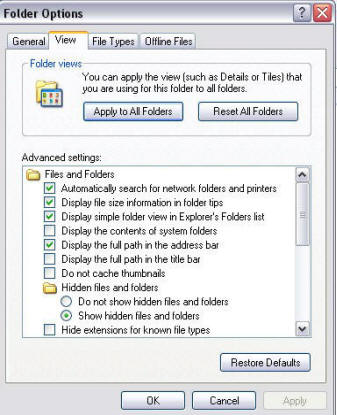 You should then be able to see filename extensions ie -

.cov

Typical filenames will be: invoice.cov / pick.cov / statement.cov
Your filenames could vary - for best practice - simply copy all files with an *.cov extension to your backup media.

PLEASE NOTE - WINDOWS XP - SERVICE PACK 2 USERS !

The windows update for Windows XP - Service Pack 2 - turns on the Windows Firewall Option by default.

If your Activefax Server Software is being run on a computer with the Windows Firewall Option enabled, you must configure a Port Exception for TCP Port 9100 in the Firewall Rules in order for Activefax to function correctly !

Feel free to contact the Realtime Software Corporation Support Department for assistance with either of these very important tasks.
Purchase Order / Rental System Enhancements

This month we focus on several Enhancements that have been applied to the baseline software package that affect elements of Purchase Order Processing, and Rental Specific type transactions.


PURCHASE ORDER PRE-RECEIVING:
A new program has been added to the Purchase Order system called "Pre Receiving". This program is accessed on the Purchase Order Receipts Processing menu.

Pre Receiving allows customers to enter initial receiving quantities without actually receiving the purchase order.

Customers can load quantities, save their work, and return to the receipt as many times as they want prior to posting the actual receipt.

Customers can also print a 'Pre-Receiving' work sheet to compare the tentative receipt with the Vendor's Packing List.

When system users go into the actual Purchase Order Receipts Entry Program (PO11A), the system will automatically load the receipt quantities (if pre-receiving has been performed) allowing for just a few key strokes to finalize the purchase order receipt.

This process can allow for large stock orders to be worked on and reviewed by various users within a company prior to the final receipt actually occurring and being posted.

The number of mistakes on a large receipt job can be greatly reduced by reviewing an initial receipt report prior to final receipt processing.

SPECIFYING DEFAULT PURCHASE ORDER PRINT OPTIONS IN VENDOR MAINTENANCE:
This Enhancement to the Purchase Order Printing system, allows the specification of default printing methods for each individual Vendor Master record, if so desired. (similar to batch print methods specified for Customer Master records).
When printing Purchase Orders, the system will default to the Vendors default method, IE - Print / Fax / Email - but still allow the user to confirm or change the print method for the Purchase Order if required. This will help customers who's vendors require Purchase Orders to be sent in a specific manner - to not have to continually worry about using the wrong methods to send in their Purchasing requests.

RENTAL INVOICES:
The Baseline Software Package has now been Enhanced to track the rental of multiple serial numbered items, within a single transaction.

Inventory Master Item numbers may now be flagged as a "Rental" type item - ie: MIS-RENTAL.

Two requirements are necessary for an Inventory Item to be considered a Rental part number.

Rental part numbers must have a $0.00 cost, and the bin/lot/serial flag for the associated Inventory Master item must be null (blank).

When a Rental Part Number is entered on Quotes, Orders, Invoices, or Recurring-A/R records, customers will be prompted to enter a sufficient quantity of valid Serialized "Item-Number*Serial-Number" Keys equal to the quantity to be shipped.

NOTE: The new Rental Part Number type is different from / and used differently from a Rental 'Order-Type'.
The 'Rental' Order Type has been in the software package for quite some time, and only permits one serialized item per transaction that is then revalued to reflect a depreciation amount each time the unit is 'Rented Out'. Customer can use this method to constantly reduce the value of an item each and every time the unit is 'Rented', and this depreciation is reported correctly via the General Ledger reporting structure.
The Rental Type Specific Part Number is designed to be used for Renting a Single or Multiple Serial Numbered Items on a single transaction where no depreciation is necessary or wanted.

A good example of usage may be a dealership that stocks a large inventory of 'Used Equipment' that has a fixed value (cost), that may be rented or 'leased' out on a regular basis.
After an Open Order containing a Rental Type Part Number with valid serial numbers is invoiced, the Serial-Master record of each item attached to the Rental Part Number will be updated to display the pertinent rental information.
---
Please feel free to visit our website at anytime and download the current version 6.33 Release Notes - listing all

Enhancements and Resolutions applied to the most recent version of the Realtime Software Business System Software
Copyright 2006 Realtime Software Corporation
All rights reserved Various trademarks held by their respective owners
950 Lee Street Plaines Avenue, Des Plaines, IL 60016 (847) 803-1100 Fax (847) 954-4764
If you have any questions or comments about our newsletter, please send an email to:
scotty@realtimesw.com. We want your feedback !
To ensure delivery of the Realtime Software Newsletter to your inbox,
please add support@realtimesw.com to your e-mail address book.
View Web version of this message.
You have received this e-mail because you are a client of Realtime Software Corporation,
or have expressed an interest in information regarding Realtime Software Corporation
To discontinue receiving the Realtime Software Newsletter please send an email to scotty@realtimesw.com and you will be promptly removed !